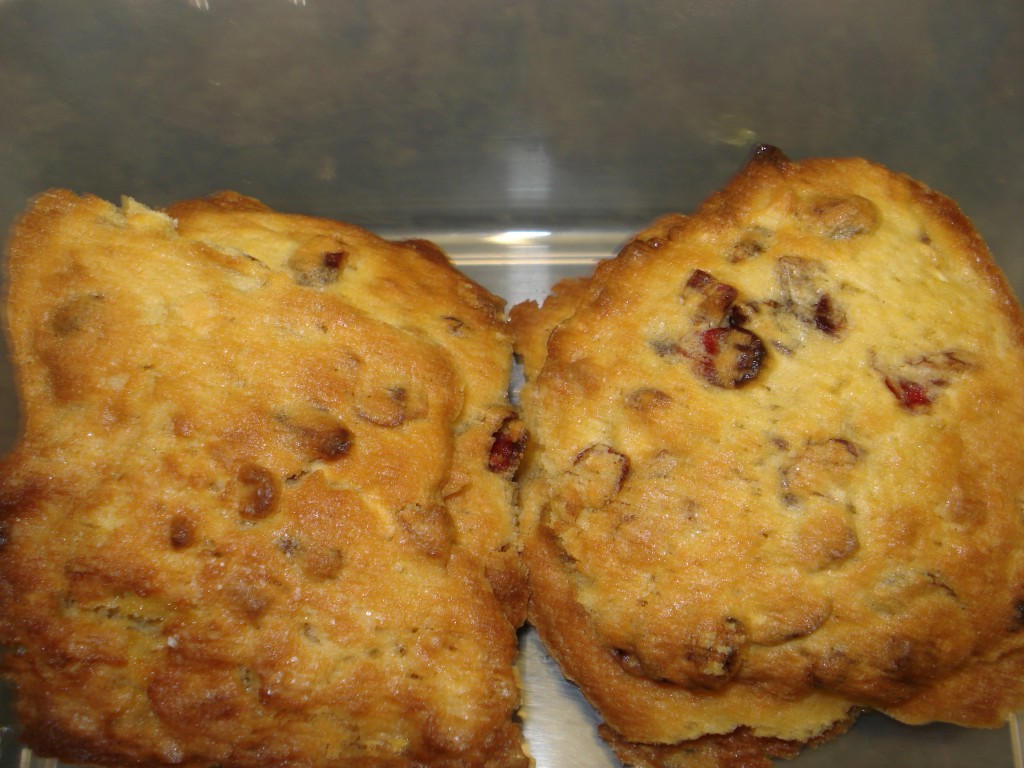 Every year in December we usually get really busy, so this year I promised myself I wouldn't add any extra stress by adding anything 'extra' into my diary. I failed at this miserably last week when a friend at work organised a bake sale to raise money for Crisis to provide a Christmas, meal, healthcheck and ongoing support for homeless people. Fortunately these white chocolate and cranberry cookies came to my aid (I managed to make some Barmaids mince pies as well in the end but only by staying up very late). These are a great quick festive bake to add to your cookbook 🙂
120g unsalted butter
70g caster sugar
70g soft light brown  sugar
1 egg
1 tsp vanilla essence
200g plain flour
1 1/2 teaspoons baking powder
½ tsp bicarbonate of soda
100g dried cranberries
60g white chocolate chips
1/2 pint milk
(you can add more/less cranberries/chocolate to your taste).
Method
Preheat the oven to 180 degrees F.
Line a couple of baking sheets with parchment paper (depending on the size of your spoonfuls you might get them on one but beware they will definitely spread).
Cream the butter and both sugars together until smooth.
Add the vanilla and egg, mixing well.
Sift together the flour and baking soda. Spoon the flour mixture gradually into the creamed sugar mixture.
At this point the mixture will be quite dry, add milk a little at a time (you may not need the full half pint) until the mixture reaches a smooth dropping consistency.
Stir in the cranberries, white chocolate chips (you might want to leave a quater of the white choc chips out to sprinkle on once the cookies have started to bake, as otherwise they will tend to sink to the bottom.
Drop by about 2 tablespoons for each of the cookies, onto the prepared baking sheets with a gap of at least an inch
Bake one sheet at a time until they are golden on top and the edges are set which should take 12 to 15 minutes.
Leave to cool completely and then transfer to an airtight container to enjoy at your leisure.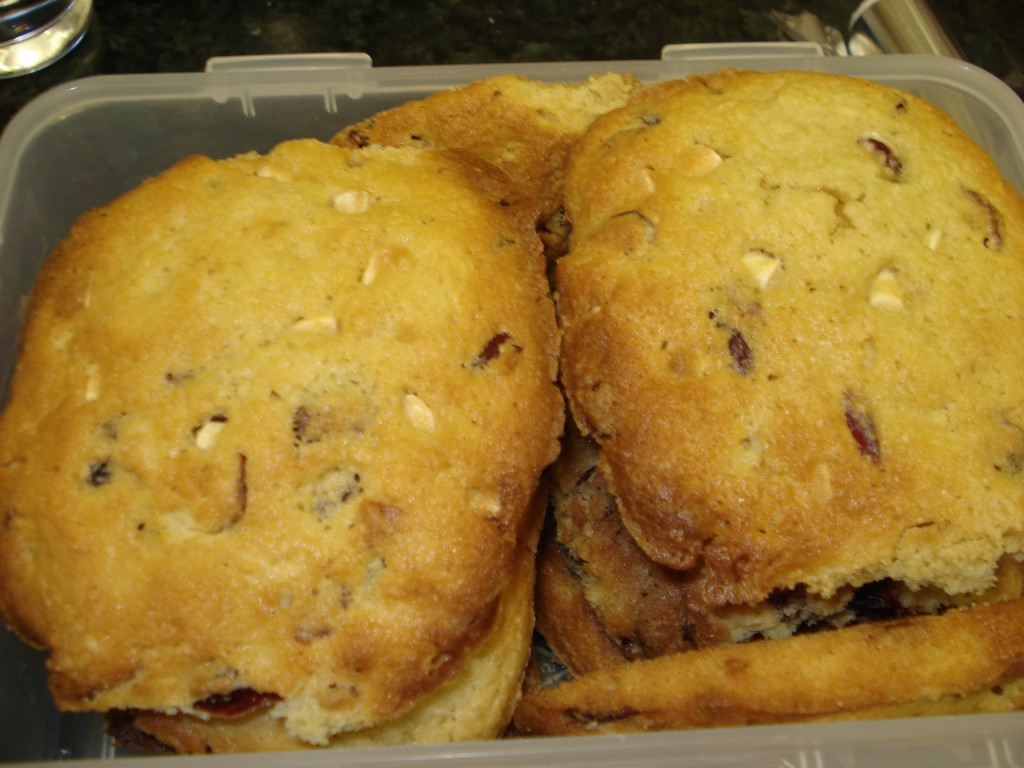 I packed mine up and headed off to the bake sale where I think you'll agree they look quite at home among all the other festive treats. The bake sale ended up raising £650 for crisis' Christmas appeal which was well worth a little extra baking for :-).