Earlier this year Jam became a member of our local brewery the excellent Loose Cannon Brewery. It was a new start up in 2010 and as Abingdon hadn't had a brewery since the much missed Morland (who beautiful tile you can see below and which can be found on the side of all pubs past and present in Abingdon & beyond who stocked those beers).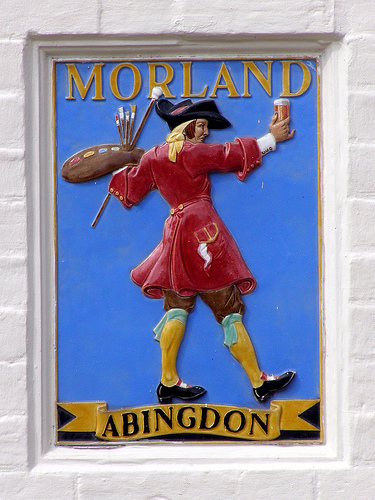 Thanks to Jim for this image
We decided we would support the new brewery so as well as sampling a few of their beers Jam became a member. Monday night Jam received a text inviting us to go for an official tour of the brewery with 'nibbles' and beer provided on Tuesday. How could we refuse?
The Brewery itself was basically a large room containing all the equipment for making the beer, but the story behind the enterprise was much more interesting… It turns out that Will (the chap who started the brewery) is part of the Laithwaite's family and its his older brother who is responsible for much of their wine production.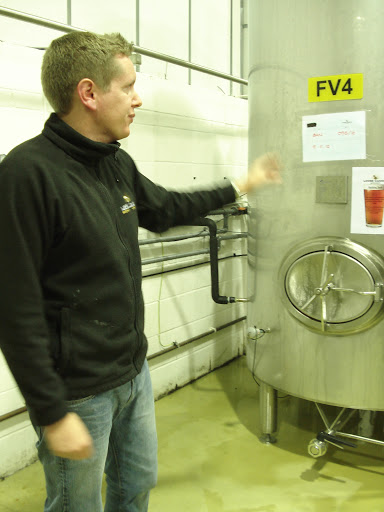 Will looking proudly at one of the enormous fermenting vats
Being the younger brother he preferred beer so using a college nickname (Loose Cannon) and hiring most of the start up equipment he set out to make some beer.
The first beer they made was the excellent Abingdon Bridge (being held by Jam here) the beer has a nice deep taste (or as my mum put it, it's tasty) and a beautiful almost red colouring). Dark Horse (a porter type beer), Loose cannon pale (paler, almost- whisper it, larger) and new addition bombshell (its blonde, need we say more).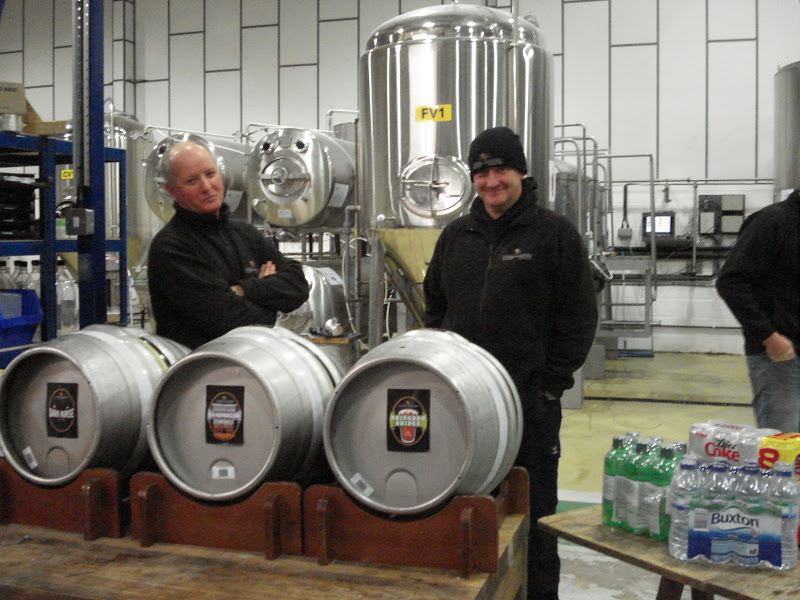 The Loose Cannon team ready for action
We got to try a new beer that has just finished being developed & there was a competition to name it (with our recent luck with crating cheese we thought this was worth a punt. I went for Ridgeway Riddler (the ridgeway being a local bit of land & riddler as I couldn't quite put my finger on the lingering taste, whereas Jam went for Wittenham Warbler (wittenham clumps being another local beauty spot and the warbler in Jam's own words 'continuing the animal legacy set down by dark horse' (hmmm).
Anyway we'll see if either of those is deemed worthy, the winner gets a case or Abingdon Bridge which would be nice! The nibbles consisted of sausage & chips from the chip shop down the road. All in all we had a fab night, got to drink some delicious beer and learnt a bit more about the strange art that is beer brewing (I'm hoping to start some more sloe gin this weekend but the micro brewery may well have to wait till next year).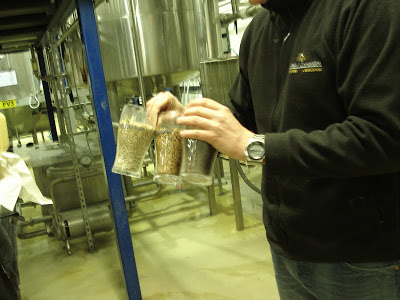 Will showing off the different types of grain used in all the different beers
If your in Abingdon or an Oxfordonian or even visiting I can heartily recommend a visit to the Loose Cannon Brewery.
The end, of this blog post and sadly my pint 🙂