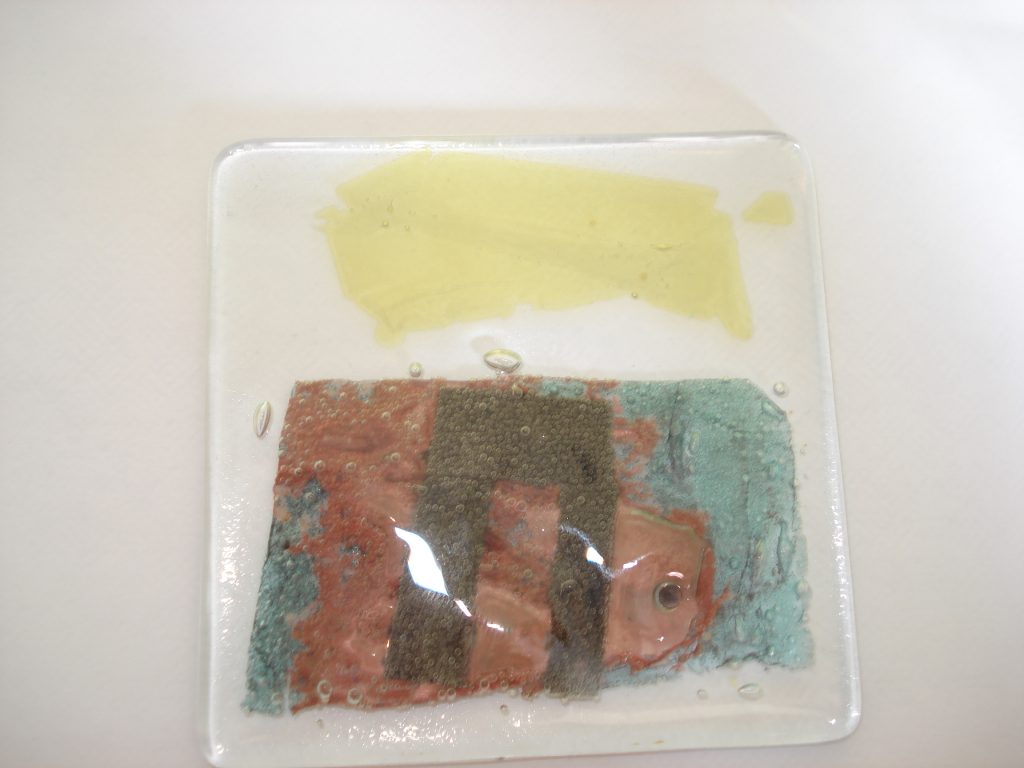 This Sat I headed off to Wolvercote to complete a 1 day introductory course in glass fusing with Glass Jewels. I've wanted to have a go at fusing for a while so was excited to arrive and start having the process explained to me. The above piece was my first test piece (featuring none other than the henge) and is done with metal leaf and metal sheeting trapped between two pieces of float glass. We completed the test piece really quickly so it could be fired and cooled ready for us to take home. For our next experiment we were introduced to Frit, which is crushed glass with colour. Certain colours seemed to blend better than others & because I wanted to try and create a sunrise behind my metal tree I picked some of the more muted colours to mix in with the brighter colours (I haven't seen the finished version of this piece yet but here is the pre fired version).

The final colour technique we were introduced to was coloured dust (same as the frit, just finer). There were a number of ways of applying the dust including using stencils, sieves and pouring the colour on. For our final piece of the day we could use any of the techniques we had been introduced to and choose our own design to either make a large panel, 3 small panels/coasters or a bowl. I've recently joined butterfly conservation (for ongoing butterfly and moth activities) and took their excellent publication Butterfly along for inspiration. I was originally thinking of trying to do a panel featuring a comma but then Sue who was one of our teachers (along with the most excellent Vince) suggested that the below image might be interesting (this was a lot more advanced than I was thinking but I had to agree).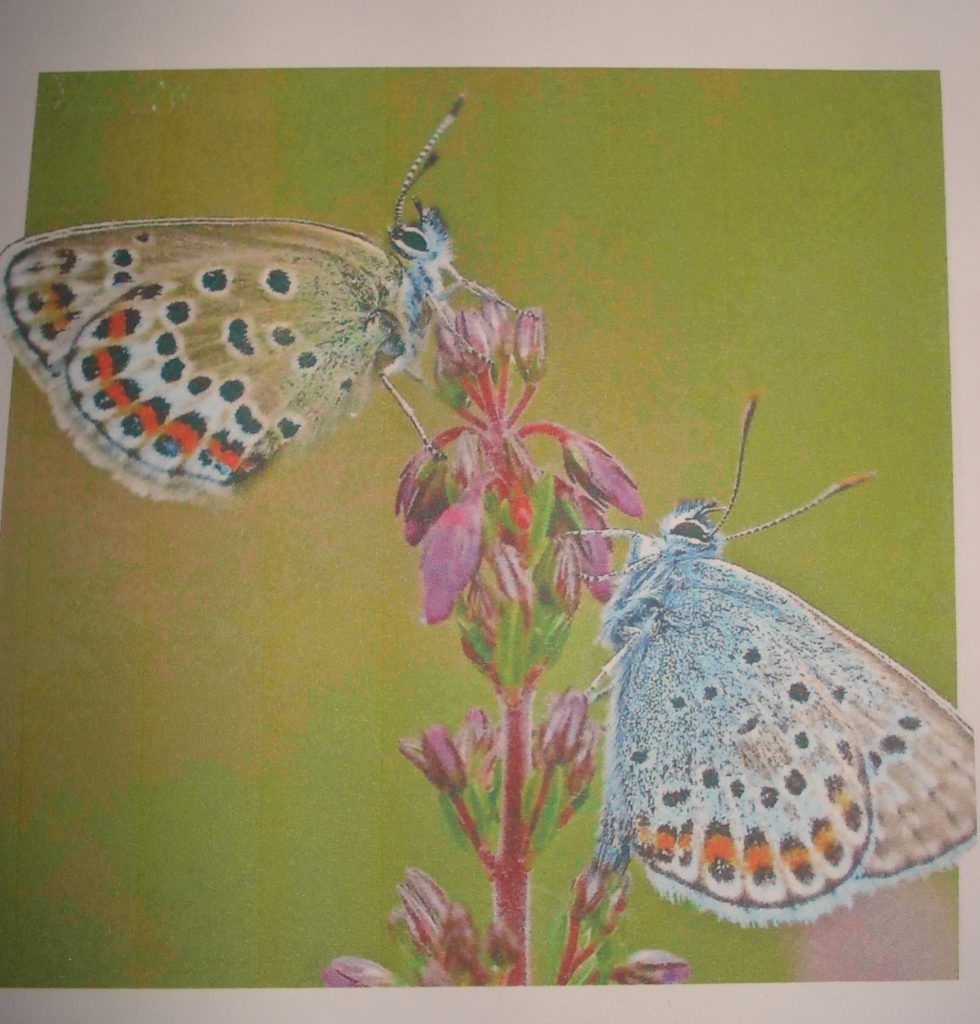 I used all three of the methods we had been shown using foils for the butterflies first (which I overlaid with dust), wire for the plant and the larger 3mm frit for adding detail on the wing and the plant. As we didn't have any bright green for the background I switched that out for yellow.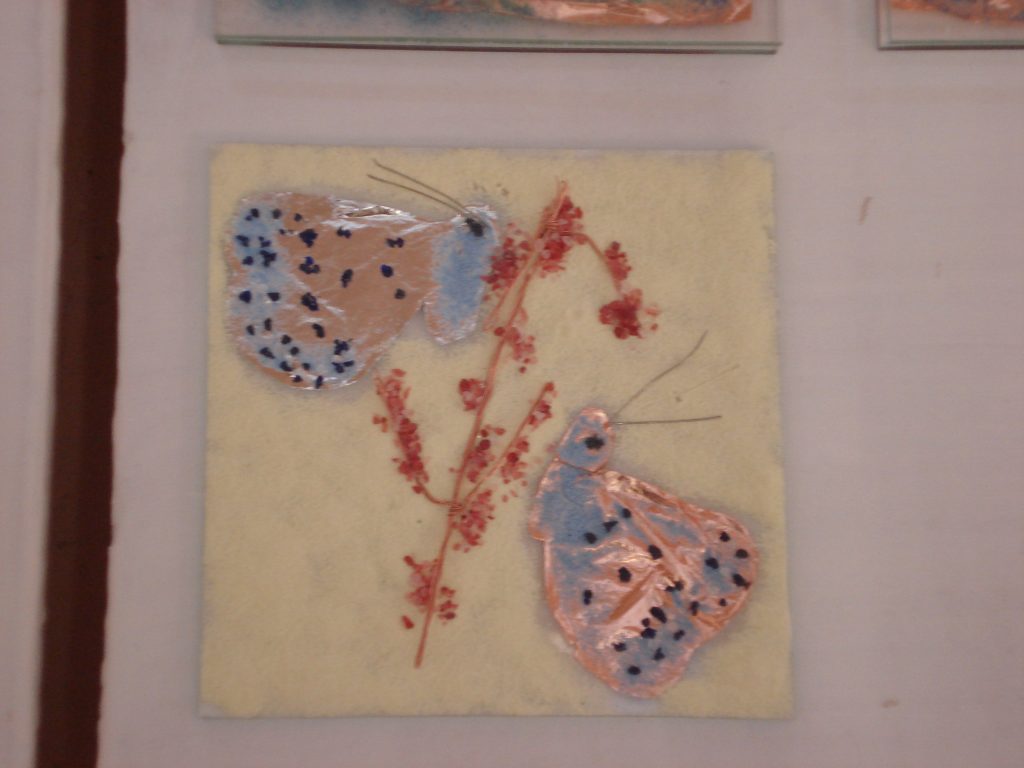 And how did that turn out? I have no idea, the last time I saw it (yesterday) it was sat in the kiln waiting to be fired (scheduled for today). I really hope the firing gods were on my side and it all went well (as Vince noted the process has its own alchemy & very often things can change during the firing). I'm genuinely excited to see the results and really enjoyed my time at Glass Jewels learning this new process. I will definitely be back!
Edit: The firing gods were kind, here are the finished pieces