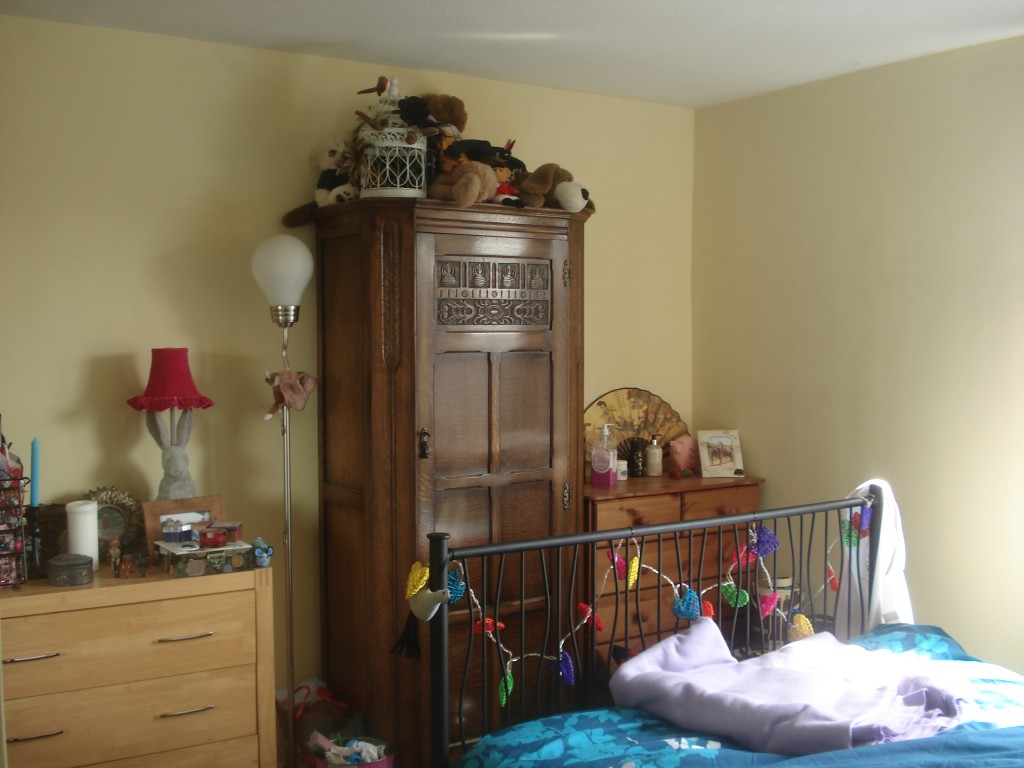 I know you were all thinking Laurence Llewelyn-Bowen and with those amazing sleeves frankly who wouldn't be thinking of him but Jam and I did some changing rooms of our own here at chateau Rose over the extended bank holiday weekend. This room used to be cream and have a couple of single beds in it (after gravy Davey moved out) but as it was bigger than our current room at the back of the house and further away from chickens who squawk loudly when they decide it is breakfast time we decided it might be a good to make it into our bedroom. The walls were painted with eco friendly clay paint Earthborn in Jemima which mixes well with our mostly blue bedding & preloved Laura Ashley curtains (a steal from Oxford Market at £8).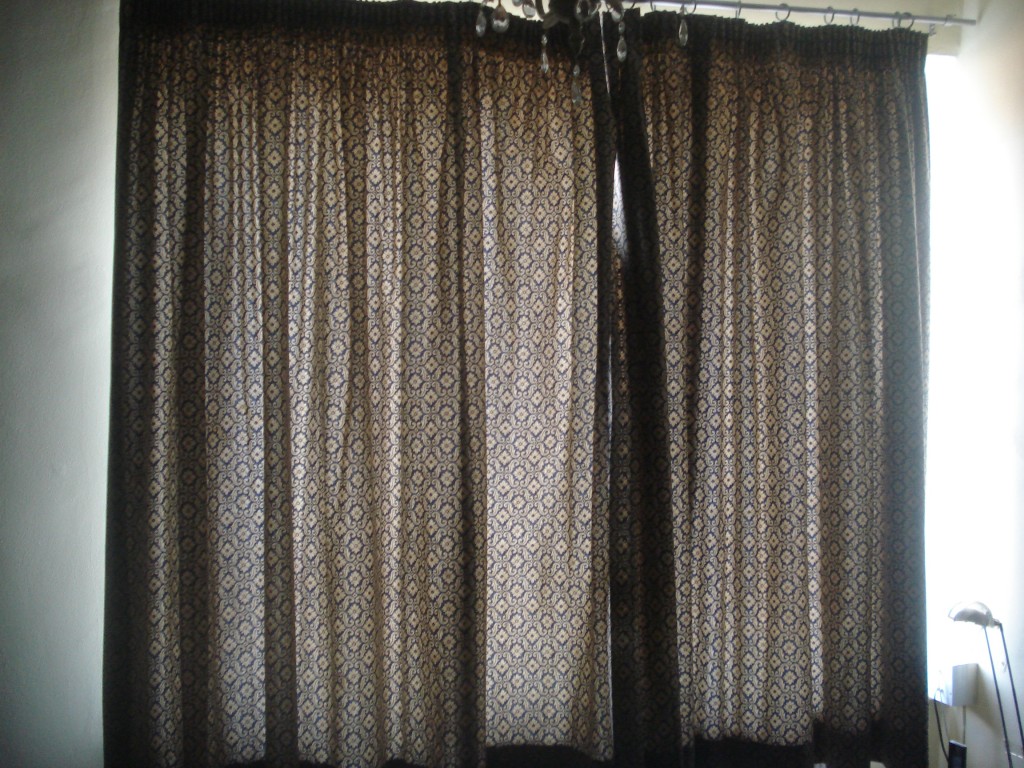 A 'new' bed was also in order as the one we bought when Jam originally moved in was not built to last. The wooden remains were sent for recycling and I found this very chic black metal number on our local gumtree (perfect for hanging our lights and indeed a chicken of destiny from).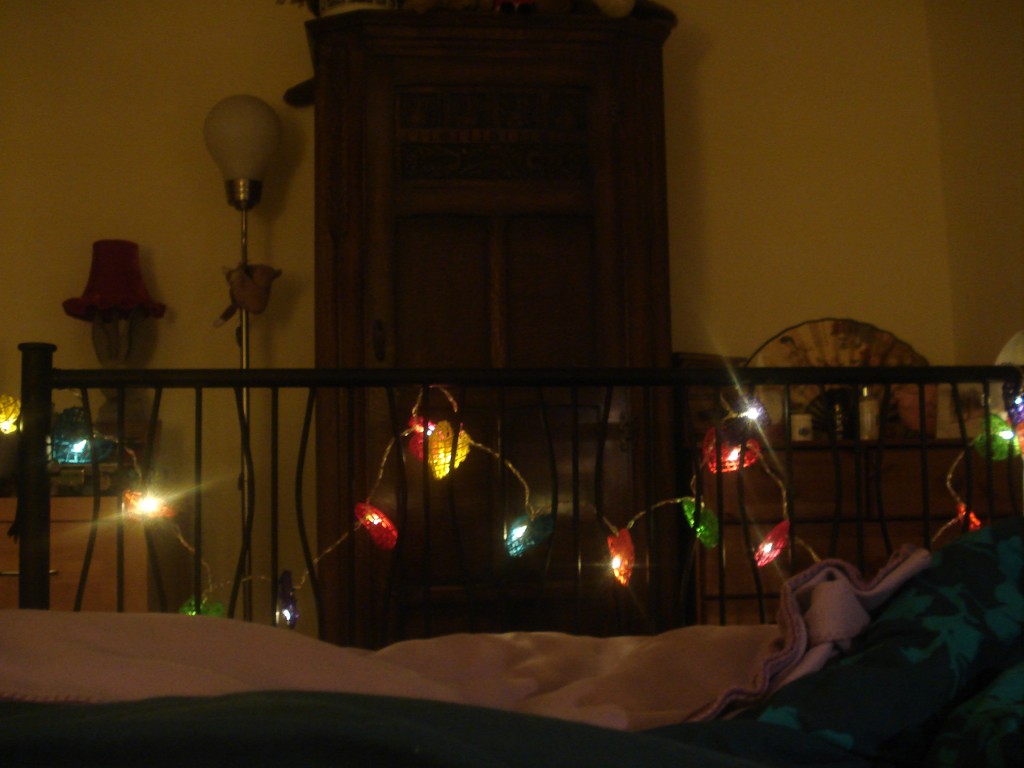 With downsizing our car to little blue we didn't have the car power to pick it up so the owner very kindly dropped it off for £5 petrol money which was awesome. The other furniture in the room we already had & I think you can see the difference in styles – Jam very oriental & minimalist whereas mine features butterflies, gardens, birdcages and my beloved hare lamp (with bright pink lampshade obviously).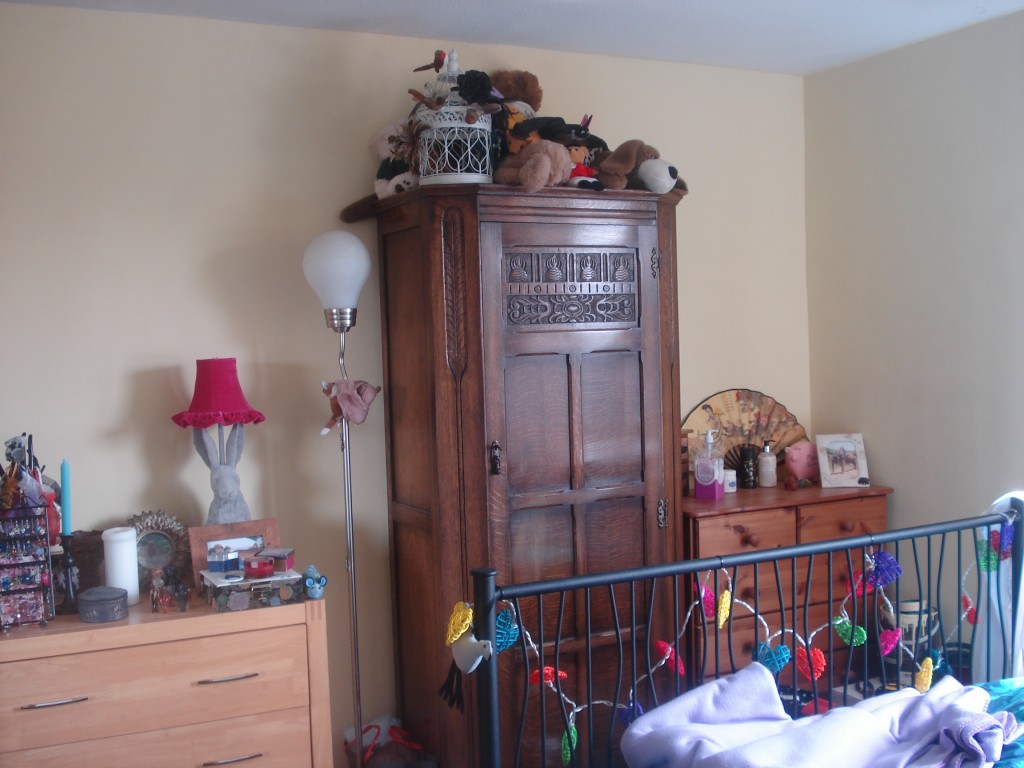 I'm really pleased with the finished room (although I am slightly eying up a stained glass bird from Through the Round Window to finish my side off and am still working on some teaspoon art – I got the wrong shade of blue for the backing but I'll get there). As you can see Jam seems quite pleased with the finished room but I don't think turning the other room into the guest room/my crafty nook will be as easy.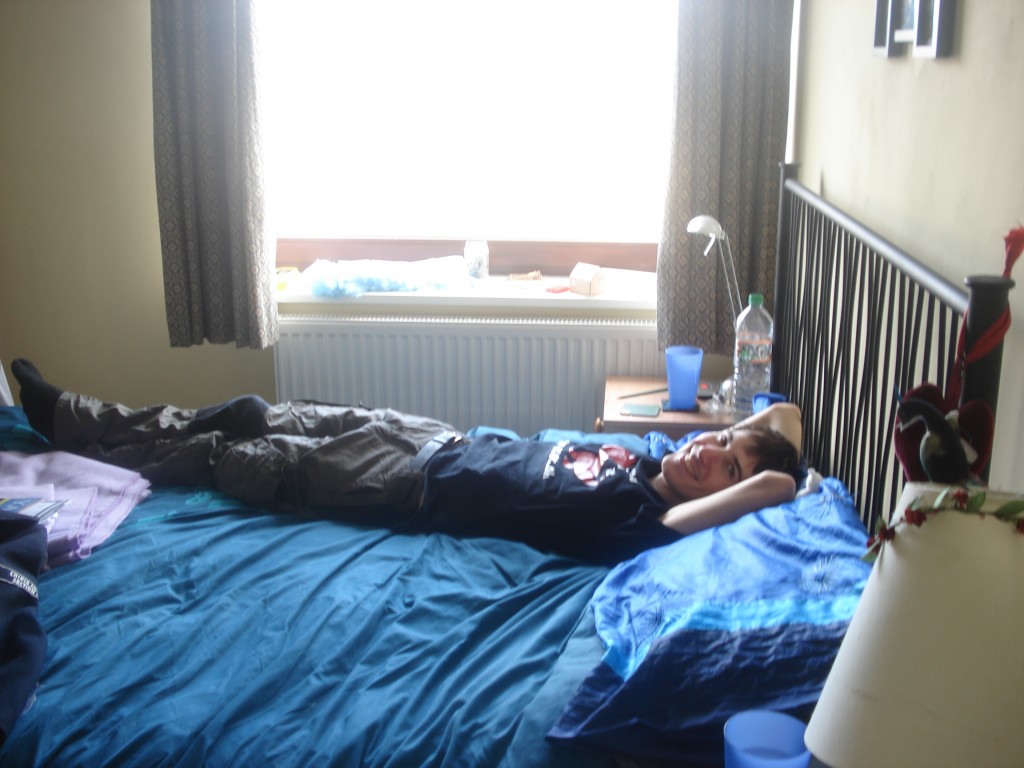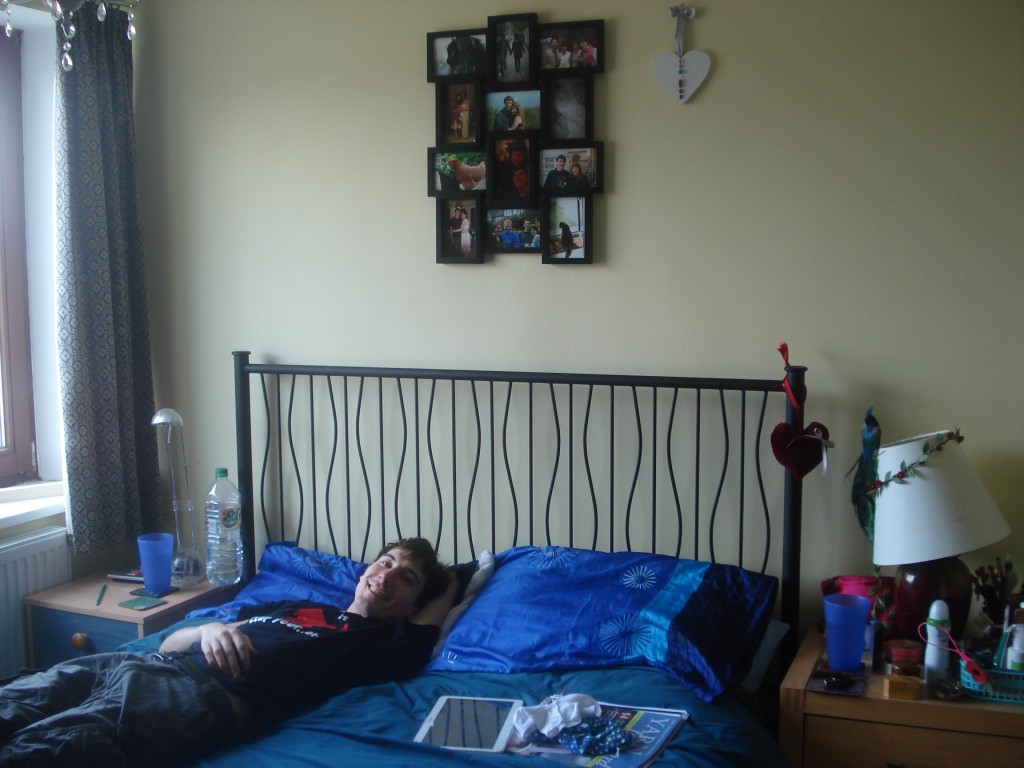 When we moved our furniture out we found there was quite a lot of mould on the walls (having spoken to other neighbours this seems quite a common problem) so we need to clean thoroughly and then treat with a least one coat of  anti mould paint as well as removing the carpet and sanding/sealing the floorboards underneath ready for Jam's mum's donated rug. There is something else spurring me on as well as the thought of my desk being out of the way and in its own craft zone… Jam has promised I can have one wall in William Morris wallpaper! As when I was looking at designs the other day we found lots of left over rolls on ebay being sold by people who had ordered too much. I narrowed the choice down to either Briar rabbit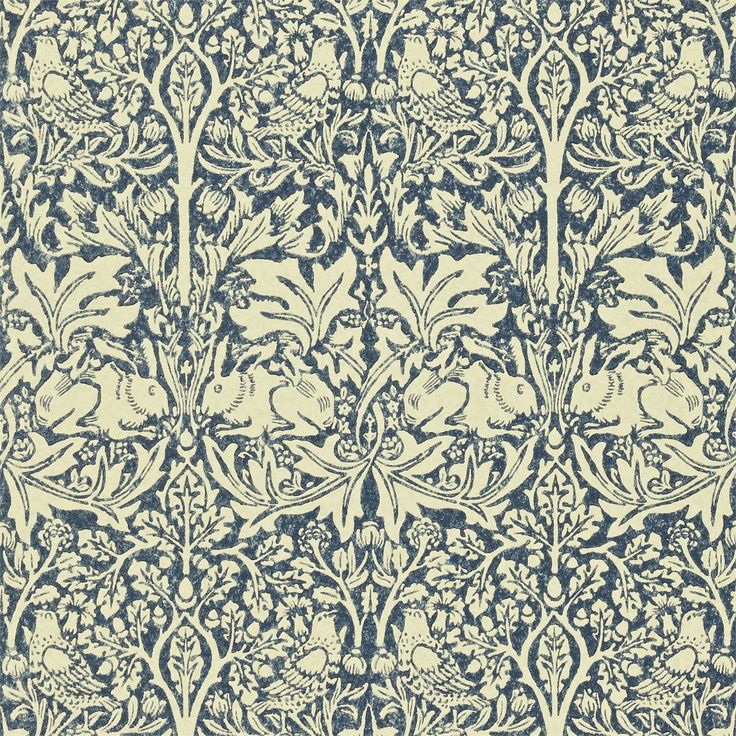 or the Strawberry thief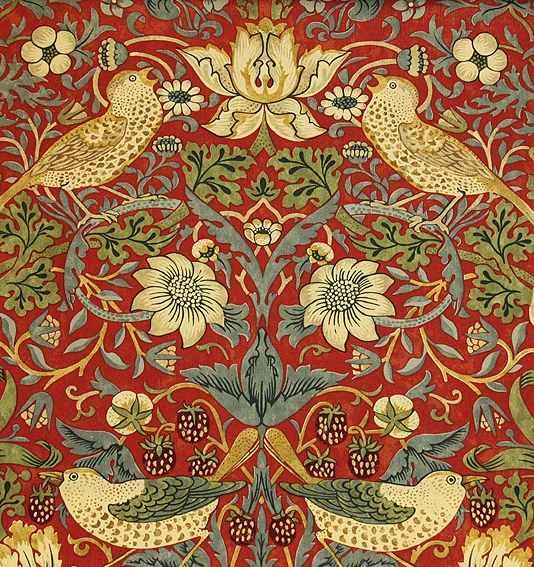 but in the end once I found this beautiful blue version of the Strawberry thief my decision was made.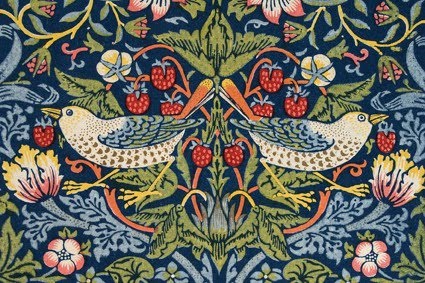 Shame there is all that hard work to do first!