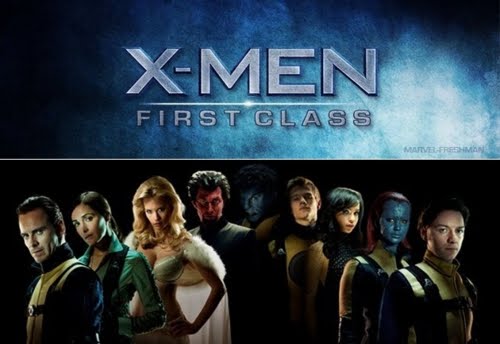 I have been waiting patiently for the new x-men film to come out for a while. When I was little I was a HUGE fan of the cartoons (& while I will acknowledge the films aren't quite as good) they tap in to fond memories of childhood of drawing a lot of characters and hoping to develop some superpower as I grew up. I REALLY wanted to go and see the new x-men: First Class film as it features quite heavily the beautiful James McAvoy. What I wasn't aware of however was that it also features my home, my one, my true, my Oxford (UK). Thanks to the roaming Paparrazi of the Daily Mail whose images are 'borrowed' here (thanks guys) we can see exactly what went down.
Here is the aforementioned lovely JM standing beneath the bearded heads of the sheldonian with perfectly haired female companions (I'm not bitter it's just my hair would never do that, especially not in the rain…). Thanks to the equally awesome
bleeding cool
we can also see what the sheldonian set actually looked like).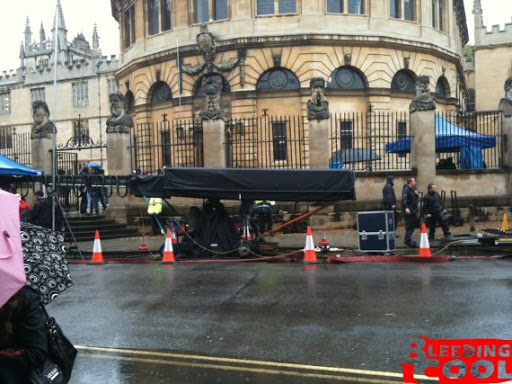 Unfortunately only the first part of the film is set in Oxford (I think the large country house which later becomes the home for the gifted is also supposed to be somewhere in the Oxfordshire countryside, in the later films it's def stateside). The main Oxford scene (which is rather awesome) is set in a (sadly fictional) pub called the Eagle (did the set people get confused with
the Eagle and child
one wonders?) JM is trying out a genetic chat up line on his fellow Oxford Students.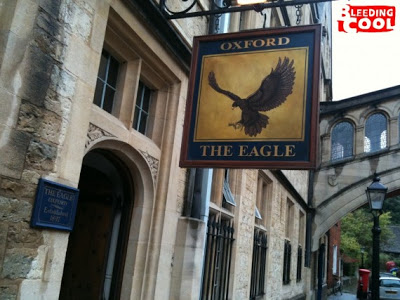 Here is the pub in another bleeding cool photo (it should be on the corner of New bridge street by the copy of the bridge of sighs, alas it hath been CGI'd or it would have definitely had another regular (having said that
my favourite Oxford pub
is just around the corner). The film itself was very enjoyable, one of the 'new' x-men/woman I found really really cool (although Rogue remains top of my affections in those stakes). Charles Xaivier and Magneto were both played superbly my JM and the awesomely named Michael Fassbender (who is rumoured to be the new bond and is quite easy on the eye). Definitely a great addition to the fantasy cannon and well worth a watch.