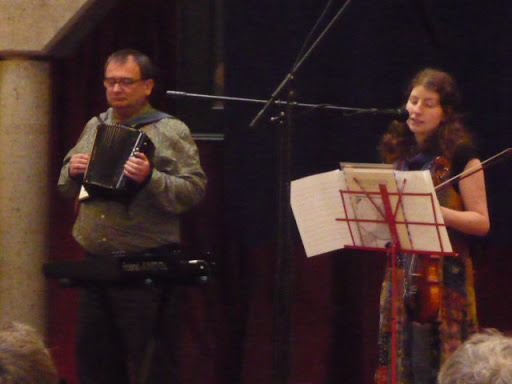 Writing on the wall (the duo with Chris Sreeves and myself in it) survived our first public outing this weekend with a 20 min set at the form a folk band showcase concert. (More info on http://www.makingmusic-southeast.org.uk/events/?29-Form and more on my experience here Alice is thinking of doing it again this year, so def the person to speak to if you want to get involved!). We ended up playing a mix of material, starting off with an unaccompanied ballad (found by Chris but involving me singing on my own without accompanyment, scary!) and then in no particular order, a balcan dance tune, a French tune, some jazz and few tunes that I'd written (I'm trying to upload 'the dots' onto a sharing site at the mo, when I suceed this blog will be the first place I post the link) as well as some good old English folk and a fairly famous cover.
It was a lovely day weather wise on Sat so I was fairly convinced no one would come (and indeed Jam didn't make it due to a terrible case of tonsilitus, ouch!) but we were lucky enough to have Chris' wife Julia, my former housemate Maddie & her boyfriend Jonny, my current housemate Dave and Fi, Nick, Alex and Alex's grandparents. So quite a sizable crowd. Although I play a lot and teach I've never been that fond of playing in front of people, so this year I decided to tackle the fear! We had a bit of nerves practice by playing a practice gig last weekend (exactly the same set as this weekend) but in front of Julia and James. We then faced the fear even more fully by asking for honest feedback from our nearest and dearest. Julia realised how nervous I was and very sweetly brought this to the gig for me (she owns a small antiques business and apprently saw this and thought of me).
We had an ex BBC soundman manning the desk and the concert was being recorded so the live recording may one day see the light of day. Also the ep which I did with the band I formed on the course (Stranger Things Happen at Sea) is at final mixing at the moment and should be available soon. We got some lovely comments after the show, most seemed to be about my singing (I sing round the house all the time but I've never really done it in front of anyone, so a good time to face that fear as well). Chris recorded a few takes of me mid song in practice (just so I could hear what I sounded like) and then sent me the following of what my voice looks like, pretty isn't it?!?