This weekend Jam and I packed our bags and headed off for a weekend in Shropshire with my mum and dad. They had rented a very nice 2 bedroom self catering apartment in 'the wilds' (a nice bit of countryside just outside Ludlow). They were able to pick up the keys from half past three on Friday afternoon, so we both took a half day. Then by happy coincidence it also turned out that starting on Thursday was Abingdon craft fair (which I was very keen to go to as we missed it last year as Jam was defrosting the freezer and we couldn't leave the house) and also our local farmers market! So the morning was duely booked off too. With no more hands to carry any more awesome (we got lots of Christmas pressies at the craft fair and lots of lovely bread, cheese, ale and veg at the farmers market) we set off to Shropshire.  This was the view that awaited us
Isn't it lovely?
(dad enjoying some of the local Abingdon ale we bought on the farmers market)
Friday night we cooked a sausage stew with some wild boar and apple sausages we picked up at the market & it was off to Ludlow. There seemed to be shops and beautiful houses everywhere I looked, but by far the most impressive thing was the castle which overlooks the streets.
There was an entry fee to get in & we thought we would rather spend the money on a nice cup of tea so I didn't get to go inside but there was a glass exhibition (which was free entry) so I did get a better look at the castle itself. I also got to meet this fine fellow.
For lunch we grabbed a bite at the bull ring, an old pub in the city centre (all the cafe's were full to bursting)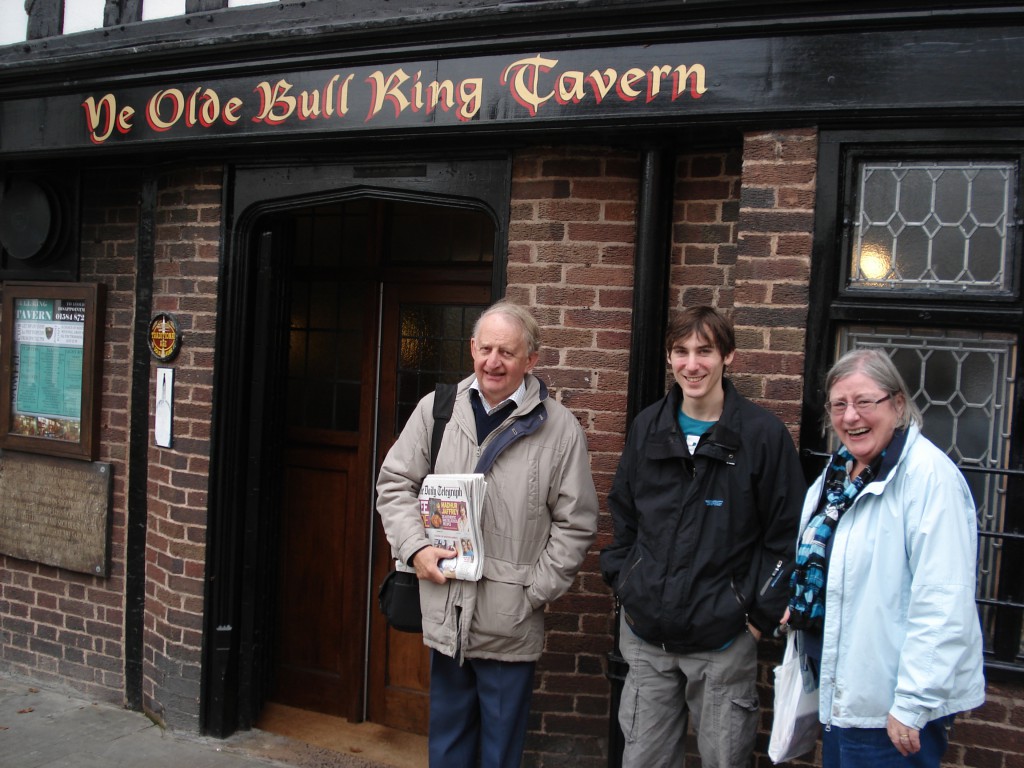 my dad later mentioned that we should have gone to The Feathers which is known for its architecture and interesting history (it is very pretty).
There was a book shop just by our bus stop (because Ludlow is medieval there isn't really anywhere to park so we used their excellent park & ride) and there was a few minutes until the next bus. I'm so glad I went in as I found these amazing posters done by Polly Hamilton.
The chap in the shop had a huge selection from all the previous plays (apparently she has been designing them since 1979). They were all lovely but the two I bought were my absolute favourites (you can see a selection of her previous works here).
At £6 each I though they were a complete bargain (of course to make sure they look their absolute best I may well have to get some frames from this chap which may be slightly more expensive…)
The evening bought more good food (and quite a lot of rest, its surprising how tiring doing not much is) before we woke up early the next day to get to Aardvark booksbefore we had to set off home.
We found this because of a leaflet at our accommodation. It is a giant book warehouse run by two ex publishers (all the best people etc) fondly known as 'the bookery'. The leaflet promised stacks of books and great coffee. Clearly we had to check that this was true, and by goodness it was! The whole experience was quite overwhelming, I don't think I've ever seen quite so many books. Jam an.d I both amassed a small pile each (Jam science & science fiction, me fashion design and erm bats) and then it was time for coffee which was indeed very fine (they also had a selection of very good looking cakes). If you are in the area its definitely worth a detour
Before we left we enjoyed one of my mum's hearty roasts and then we left bright sunny Shropshire (yes really) and returned to Abingdon, where there were chickens waiting to be cleaned out and it was of course drizzling. Shropshire and Ludlow in particular were stunning & I can highly recommend a visit although next time we'll definitely try and go for longer!
(in other news sadly we didn't get chosen for a stall at the Christmas market, so I'll be setting out my wares on Folksy and trying to find another local fair to visit over the festive period instead).