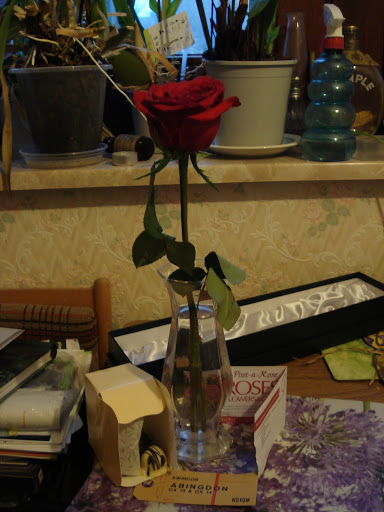 Today at work I got the most wonderful suprise, I was called down to the post room about 9.30 and there waiting for me was this beautiful red rose, a little box of pretty chocolates and a card too from this secret admirer. When I came down and Dean handed me the box I honestly thought he had emailed the wrong Vikki (it happens all the time) but after 3 mins of debate and Dean making me read the address label it turned out he had indeed got it right and I had to apologise. To my not so secret admirer than you it was beautiful but you shouldn't have (I will get revengae at some pont :-).
Valentines evening I had made plans for a couple of months ago, Jon Boden and his remnant kings were playing a gig in Keble (one of the Oxford colleges) as Jon's father is bursar there. My hot date for the evening Janey unfortunately fell ill at the last moment so I went on my own (*sob*) I'm really glad I did however as it was a really brilliant gig. Jon has been doing a project called a folk song a day for some time now, it's exactly what it says on the tin, Jon will be posting a folk song a day for the whole of 1 year. The audience from last night's gig were invited to join him in a sing along at the end of the show (we even got a practice run during the show, you can't say farer than that). You can hear the result here http://www.afolksongaday.com/2011/02/14/cupids-garden/ plus there is a fabulous video of Jon performing my favourite of his songs (it's a cover of an old croony one, seemed apt for Valentine's) here http://www.youtube.com/watch?v=sQ-kdOQZPLU
Finally as well as Mr Boden there were two other major stars of the show for me, two edison phonographs, the pre cursor to the record player these play music captured on wax cylinders. Jon's current album (the one this album is promoting) is called songs from the floodplain.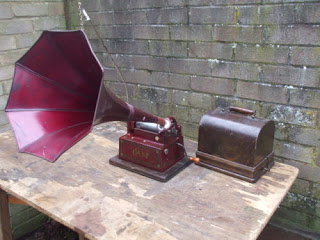 It's an album based on the idea that in the not too distant future humanity will be in crisis because the electricity/oil will run out. On the album this leads to people rediscovering and putting value back into folk traditions as well as digging out fabulous old technology. Throughtout the set last night the two phonographs played background music and sound shots (Jon has even named them Edith and Eric, awww). Out of pure curiosity I had a quick look if you could still get hold of them, you can but they are pretty rare. I think I might have lost my heart to this one however this is a edison red gem circa 1905. I think it would look lovely in my house sadly I don't seem to a spare £700 but I think we can all look at it and see how pretty it is!